January 2010 investment report for the South America Focus model portfolio at Covestor®
This is a monthly investment report for the South America Focus managed portfolio at Covestor. A description of this South American & Brazilian stock-market investment is also available at SimpleStockInvesting.com, as well as some other reports. You may read the latest if you open an account at CVIM.
Investment report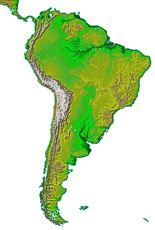 Image courtesy of NASA
DECEMBER 29, 2009 — It is a pleasure to be giving the first of these monthly reports. I believe there are several themes in South America offering good investment potential. This continent produces commodities that have experienced significant price increases since 2005. I think pre-2006 commodity prices are history, at least for the time being, because they were in a collision course with world growth. Current prices may suffer corrections but, unless there is a global depression, I expect them to stay within a range that will make it possible, for our economies, to unleash much of their growth potential.
In this scenario, my aim is to capture a balanced sample of the themes that I find promising. Some popular South American funds rely heavily on oil and metals that are tied to the level of global economic activity, such as iron and copper, but the region has more than that to offer. Our model portfolio has a portion allocated to companies producing oil and iron, but we are balancing those investments with other themes like agriculture products, domestic demand, precious metals, emerging fixed income, currency fluctuations, and the hypothetical undervaluation of some stock and closed-end funds, while monitoring other possibilities. This way, I intend to exploit the South American potential with reduced volatility and less dependence on a few companies and commodities.
MORE ABOUT SOUTH AMERICA FOCUS
December was not too exciting for the region, with heavyweight Brazil underperforming the US markets. Nevertheless, our portfolio stayed ahead of the S&P 500 and experienced lower volatility than typical South American instruments like Brazil ETF's EWZ and BRF. This was accomplished, in part, by overweighing Chile, based on currency issues. Brazil doesn't seem comfortable with the current valuation of its currency, the real. The Brazilian government is likely to address the issue, possibly aided by a stronger dollar. If that is the case, we may expect some depreciation of their real, configuring a good moment to enter the Brazilian markets more strongly. In the meantime, we hold some Brazilian stock anyway, because diversification is my priority.
The performance of our individual positions was mixed. Besides our Chilean holdings, junior gold explorer Exeter, business telecom NII Holdings and aircraft-manufacturer Embraer did very well. Exeter was driven by its recent inclusion in the S&P/TSX Global Gold and Global Mining indexes, while Embraer also had good news when they secured a $2.2 billion loan to finance the sale of jets in Asia. On the other hand, Gol airlines suffered from a general deterioration in the airline industry's outlook, and our gold and silver miners were affected by the diminishing price of precious metals. Overall, I believe our holdings maintain their potential, but I will monitor their developments, as well as those of other ADRs, stocks, CEFs and ETF's that are suitable for this model.
I wish you a very pleasant 2010, thanks for subscribing!