March 2010 investment report for the South America Focus model portfolio at Covestor®
This is an investment report for the South America Focus managed portfolio at Covestor. A presentation of this South American & Brazilian stock investment is also available at SimpleStockInvesting.com, as well as some other reports. You may read the latest at CVIM, if you open an account with them.
Recent market behavior
FEBRUARY 28, 2010 — Last month's corrections continued on the first week of February, and then we had some volatile recovery. To my understanding, this volatility is mostly caused by the uncertainties regarding the strength of future growth. Will employment recover? What will happen with construction in China? Will there be a rise of protectionism? Are governments going to resort on inflation to dilute debt? Will they adjust? And the questions keep going on. This is as a particularly uncertain moment worldwide, and I would not be surprised if the markets go on with this seesaw-shaped lateral movement, or if they go up, or down... Even though I realize that further corrections are a possibility, I keep being confident on this portfolio's "stories". Now more than before, because stock valuations and currencies have corrected, although not much.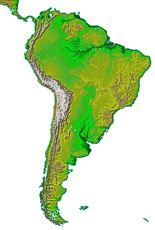 Image courtesy of NASA
Our result
Since my last report, the model performed in line with the Brazilian markets and gold-mining sector, lagging the top Brazil ETF's EWZ by only 1.32% and BRF (which in January suffered the most) by 3.3%, and the gold-mining ETF GDX by 1.19%. I mention this because I had compared with those benchmarks last month, when we had a significant over-performance that was due, in part, to fixed income and companies with operations in Chile and other countries ex-Brazil. In February, the latter did not perform as well as Brazil and gold miners, which had room for recovery. Therefore, I think that staying near those benchmarks now is a sign that we maintain a good direction. As I said before, it is unfortunate that some investors subscribed to the model at higher-than-present values, thus not breaking even yet. There are no guarantees, but let's hope we reach that point soon, although it may be postponed because of the devastating earthquake that struck Chile yesterday (I am writing this on February 28th).
The earthquake in Chile
When the markets open tomorrow Monday, I am expecting to see an effect of the tragedy on some of our positions. For the last 40 years, only the 2004 quake off the coast of Sumatra, the one that caused the remembered tsunami, is in the Significant EQ Database as having equal or greater magnitude. This time, there were no more fatal victims due to the fact that the epicenters were not too close to densely-populated areas, as had happened for example in Haiti, and thanks to Chile's preparation and organization, which so far has shown to be good with the exception, it seems, of the unfortunate mistake of not issuing an alert, near the seaside city of Concepción, for the tsunami that was responsible for half the current death toll of 700. You may have seen the surroundings of that city in the news, for example when they showed the collapsed bridge over the Bío Bío river.
Chile is an investor-friendly country and I am confident on their organizational capability
One of our holdings, Endesa Chile (EOC), possesses several hydroelectric power plants on that river, but they are pretty much further south-east. President Bachelet said yesterday that no power plants were damaged. Moreover, Endesa Chile has 62% of its business (if measured as generation capacity) in other countries (Argentina, Peru, Colombia and Brazil), and transmission lines are not among their assets, because their distribution is handled by another subsidiary of Endesa Spain, their mother company. Nevertheless, the effort that the Chileans have to undertake will probably impact on Endesa's future earnings, as well as on Banco Santander Chile's (SAN), another one of our holdings. Other stock in the model may experience some loss, like NII Holdings (NIHD) for owning Nextel Chile, although most of their operations are in Mexico, Brazil, Argentina and Peru; and Banco de Crédito del Perú, because we should expect less Chilean investment in that country. One more asset in Chile that we are investing in is Exeter's (XRA) Caspiche mining project, but it is far away in the northern region and unconnected with domestic consumption.
Chile is an investor-friendly country and I am confident on their organizational capability. If I expect us to lose some of our portfolio's value, it is because of the capital that will have to be divested from growth into reconstruction. This does not mean we should sell. Whatever damage there is, it is already done, and it will be reflected in valuations as soon as the markets open tomorrow, when investors express their opinion through their trading. There may be under-reactions and over-reactions, followed by fluctuations. I will try to identify over-selling in some specific stock where this may be possible, but, in general, it is very difficult, if not impossible, to predict new fair values quickly and accurately, when even the most involved stakeholders are uncertain about the costs and future implications of this tragedy.
Whatever value we have lost (hopefully not much), we will have to take it as a contribution to the effort that the Chileans are facing. . .
MORE ABOUT SOUTH AMERICA FOCUS
My deepest sympathy to Chile. I hope that they can show their resilience and capability to the rest of the world, that those missing their loved ones find them soon and in good health, and that those who suffered heavily can gather the strength and courage that is needed to go on, especially after the loss of someone.
Until yesterday, I had planned to report about my views on the stock that has become the worst performer in our portfolio, Silver Standard Resources, and why I am positive for the medium-to-long run, although I would not be surprised if it maintains its current range in the short term, considering that it has issued new stock. The disaster in Chile took the place of those comments, maybe next month I can retake the subject.
I hope you the best for the coming month, and thanks again for subscribing.